Career Services: Writing a Resume
What is a resume?
A resume is a one or two page summary of your education, skills, accomplishments, and experience. Your resume's purpose is to get your foot in the door. A resume does its job successfully if it does not exclude you from consideration.
One or two pages?
To prepare a successful resume, you need to know how to review, summarize, and present your experiences and achievements on one page. Unless you have considerable experience, you don't need two pages. Outline your achievements briefly and concisely.
How to Prepare a Successful Resume
Focus on the content of your resume. Before you write, take time to outline your skills and abilities as well as your work experience and extracurricular activities. This will make it easier to write your resume.
What to Include:
Contact Information--Name, address, telephone, email, and permanent address (if different from your school address) should all be included. The contact information should:

Be easily visible. You must make it as easy as possible for the employer to contact you quickly, since they have many applicants and usually will not take the time to track you down.
Be at the top of the first page.
Not include any other personal information such as age, race, church affiliation, or marital status.

Objective

A brief statement of what you want to do.
Be as specific as possible about the type of position, organization, and/or function that you want to perform.
Tailor your objective to each employer you target/every job you seek.

Education--This includes graduate and undergraduate studies in reverse chronological order (most recent to earliest). New graduates without much work experience should list their educational information first. Alumni can list it after the work experience section. Education information includes:

Name of institution
Degree, major and minor
Graduation dates
GPA (if complimentary)--This can be your major GPA if you label it as such.
Academic honors
>Courses not required for your major but relevant to the position you are seeking

Any specialized training you have completed

Any certificates or licenses that are appropriate to the position
High school is not usually included once you have attended college.

Experience--This is not just work experience. In reverse chronological order, be sure to include:

Full-time, part-time, summer, volunteer, internship, co-curricular or community activities, or other active learning projects

The functions you performed and accomplishments, achievements, results and recognition that you received.

Special Categories--This might include publications, relevant research projects, computer knowledge, language fluency, athletics, etc., where appropriate.
Honors and Awards--You might include Honor Societies, achievement awards, competitive scholarships or other evidence of recognition. There is no set order for these categories. They should be arranged in descending order of importance to the employer. In other words, your most important selling point first.
Check your spelling! Do not depend on spell check. Have other people proofread your resume!


The Cover Letter
CareerSpots.com ©
Download Quick Tips (PDF)


Make Your Resume POP
CareerSpots.com ©
Download Quick Tips (PDF)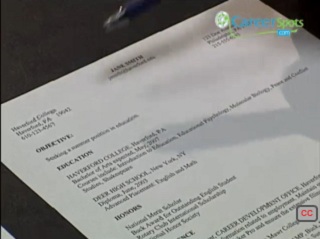 Stand Out Resumes
CareerSpots.com ©